Featured Poet:
​Darren C. Demaree
Cover Art: "Matsusaburo "George" Hibi, Topaz in Winter, 1945; woodcut, 8 1/2 x 15 in., SFMOMA
---
EMILY AS THE BED IS FILLED
​How many animals
& children
& almost finished
thank-you notes

& mortgage re-
financing documents
have I tucked
my shoulder under?

There is a rustling
every time
I reach for Emily
& yet, I love

that song of working
through the entirety
of our lives
& finding her,

there, always there,
collecting more
life for us to swim
in, un-quietly

& soaked in
the intentions
of a lover, who
cares more

about the context
of the button
than what
it can turn on.
---
​EMILY AS A SMALL BLOW OF MEMORY
Back on the lawn
we are heroes
only to each other
& that is what
happened there,
we decided to be
heroes. That was it.
Nothing else
needed to happen.
---
​EMILY AS ICE AND ORANGES
​Arranged as astonishment,
I am the shadow of Emily
that tried to eat through her
to reach the sun. It felt like
a path. It felt like I was doing
such a thing to become art,
actual art, like the only time
I saw ice and oranges together.
---
​blue and blue and blue #72
​the error
comes with
the gesture

that never
becomes
an act
---
​TRUMP AS A FIRE WITHOUT LIGHT #419
| | |
| --- | --- |
| | ​I have wrapped my hand around the dark brick. I lift it every day. I am strong with a brick in my hand. That doesn't mean anything, but it feels good to know I can pick it up whenever I want to. It feels good to toss it up and down without swallowing any dust. It feels good to put it down gently, slow enough to tax my forearms. I type so swiftly after all of that. I believe in every word I write with this dark brick perched next to me. |
---
​TRUMP AS A FIRE WITHOUT LIGHT #420
| | |
| --- | --- |
| | There is a mother in every marrow, and that mother is bear. Is he anxious right now? There are too many bodies full of bears in this country. Each bear tears against the tide that threatens each body. The moon remains unchallenged. He is not the moon. |
---
​TRUMP AS A FIRE WITHOUT LIGHT #655
| | |
| --- | --- |
| | ​How lucky I am to be greeted with the wind as I smack back against the ribs of America. This is the era of bruising. Those of us that survive will look like survivors. Those of us that are buried will be buried in numerous plots. This is the shredding of the tendons of the American hopefuls. I have no intention of leaving. I have no idea if I can hold on to my country. |
---
​TRUMP AS A FIRE WITHOUT LIGHT #657
| | |
| --- | --- |
| | ​In the middle of one hand of mine I am holding a leaf from last autumn. I am waiting for the renewal of this dead leaf. I am waiting for America. I will settle for a different leaf we give the same name. |
---
| | |
| --- | --- |
| | Darren C. Demaree is from Mount Vernon, Ohio. He is a graduate of The College of Wooster and Miami University. He is the recipient of The Nancy Dew Taylor Prize from Emrys Journal, has received nine Pushcart Prize nominations, and has published six collections of poetry. Jellyfish Highway Press will publish his seventh collection of poetry, Unfinished Murder Ballads, in October of 2017. Outside of his own poetry, Darren is the founding editor of Ovenbird Poetry, as well the Managing Editor of the Best of the Net Anthology. Currently, he is enrolled in Kent State University's M.L.I.S program, and is living and writing in Columbus, Ohio, with his wife and children. |
Powered by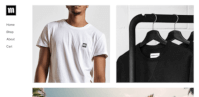 Create your own unique website with customizable templates.